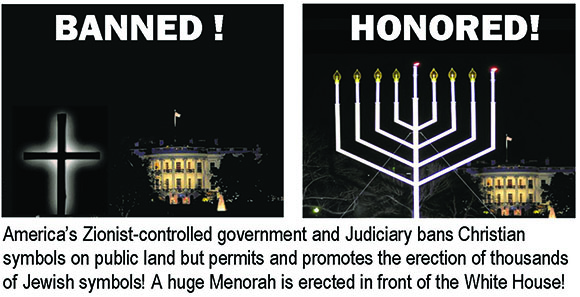 Excerpt from davidduke.com – David Duke
Every year, the world's biggest Jewish Menorah stands right across from the White House on government property.
During the Christmas season, thousands of Jewish Menorahs are displayed on prime public property across the United States. Thousands of Menorahs are placed in front of town halls, federal buildings and schools.
The Supreme Court of the United States has ruled that Jewish Menorahs are allowed, but Christian-themed scenes and decorated crosses are totally banned on any public ground, including city halls, state legislatures and all federal ground including government controlled areas and even National Parks and any land controlled by the federal government. All this while Jewish Menorahs are erected by the thousands! In addition the Menorahs are mostly erected by a Jewish ultra-racist organization called Chabad which views Gentiles as inferior and evil!
Excerpt from www.liveactionnews.org – Cassy Fiano
People with disabilities are often not valued in our society. They're demeaned as burdens or drains on taxpayers. And heaven forbid if a child is diagnosed with some kind of disability during pregnancy. Even if the disability isn't life-threatening, that child's life is likely to be taken by his parents, simply because his life might consist of some measure of hardship.
An Australian couple chose to abort their baby at 28 weeks for just this reason: their child was diagnosed with nothing more than a cleft hand, and they thought that the baby might have a "hard" life.
Excerpt from www.onenewsnow.com – Charlie Butts
A traditional values organization has checked Walmart's charitable contributions and wonders if the company is trying to gain favor with homosexual activist groups.
OneNewsNow talked with Peter LaBarbera of Americans for Truth About Homosexuality, who says "it looks like Walmart has joined the legion of companies who sold their soul to the homosexual, bisexual, transgender agenda."
(snip)
"Walmart's Human Rights Campaign rating on the Corporate Equality Index has risen from 40 percent in 2008 to 90 percent today," LaBarbera notes. "The only thing they have to do to get a 100-percent rating is fund transgender sex-change operations [for employees] …."
(snip)
LaBarbera urges people to contact Walmart asking them to at least be neutral in the culture wars and stop funding activists.
OneNewsNow contacted Walmart for comment, but so far has received no response.
Copyright One News Now 2014
From www.LifeSiteNews.com – Dustin Siggins
The Minnesota State High School League's decision to allow transgendered students to play on the gendered team of their choice is discriminatory against Christians, says a longtime opponent of cross-gender sports.
Steve McConkey, president of 4 WINDS Christian Athletics, told Christian News Network that "in the past, Minnesota allowed girls to be on boys teams. Now, a boy can participate on the girls teams."
The policy "is a way to minimize Christian beliefs," said McConkey, and "if you oppose transgenders in sports, than you are labeled a bigot or hater."
McConkey, who has publicly opposed the International Olympic Committee's decision to allow transgendered athletes to play an opposite-gender sport, also said that "physically, men are stronger than women. This will not end well."
Earlier this month, the Minnesota State High School League overwhelmingly voted to make the change to accommodate transgendered students. The policy allows male students to use female restrooms, locker rooms, showers, and hotel rooms. The state's Conference of Catholic Bishops opposed the measure, as did other pro-family groups.
The issue of transgendered men in female sports briefly rose to national attention earlier this year, when mixed martial arts fighter Fallon Fox broke the eye socket of his female opponent. Fox had hidden his attempt to change his gender until it was discovered in March 2013.
From www.LifeSiteNews.com – Ben Johnson
New York taxpayers must bear the cost of sex-change operations and hormonal therapy so that transgender people can meet their "gender goals," according to a new rule promulgated by Gov. Andrew Cuomo late Wednesday night.
Medicaid would pay for transgender New Yorkers who qualify for the program to receive hormone therapy and/or gender reassignment surgery, according to the proposal. Costs for the treatment range from $15,000 to $60,000.
State officials estimate the new policy will cost taxpayers $6.7 million a year.
Excerpt from www.onenewsnow.com – Michael F. Haverluck
With annual lawsuits contesting the constitutionality of Christian Christmas displays around government buildings becoming as much of a winter staple as Black Friday and photos booths at the local mall with Santa, many are finding the decision of officials from Florida's state capitol confounding, which allows the Satanic Temple to erect a "holiday display" in Tallahassee's rotunda.
After previously being denied a spot to erect its satanic display, state officials decided last year to allow the controversial setup with an affixed sign reading "offensive."
Pressing further — as many progressive agendas have been noted to do once getting their foot in the door — the Satanic Temple proposed its display this year along with a threat of legal action if state officials didn't only accept their display, but also remove the "offensive" label from it.
From www.LifeSiteNews.com – Lisa Bourne
A vote December 2 by the Washington, D.C., City Council could compel private religious schools and universities in the nation's capital to allow groups that oppose the schools' moral values access to their campuses, programs, and funds.
The council voted to eliminate faith-based schools' 25-year-old legal protections from discrimination lawsuits as part of a "human rights amendment." Barring an act of Congress, D.C.'s religious schools will likely have to go against their religious values when it comes to permitting use to their campuses or programs.
Excerpt from www.freedomoutpost.com – Tim Brown
More and more we are seeing an opening in America to paganism, false religions and open Satanism. The strange invocation that came from the Lake Worth, Florida City Commission meeting on December 2 of this year exemplifies this, only it was apparently an anti-theist that gave the invocation.
Miami anti-theist Preston Smith stood and gave an utterly moronic invocation, if you can even call it that as several of the commissioners and the mayor got up and walked out before he gave the invocation.
Lake Worth Mayor Pam Triolo and three other commissioners exited the area, but later returned for the Pledge of Allegiance.
(snip)
"Mother Earth, we gather today in your redeeming and glorious presence to invoke your eternal guidance in the universe, the original creator of all things" Smith began.
(snip)
He went on to praise Krishna and mockingly took the words from the apostle Paul in Romans 8:31 and applied them to Thor.
Finally, he thanked the atheists, agnostics and humanists (all anti-theists) for logic, reason and science, not knowing that Jesus is the logic (logos) and that there is no reason or true science apart from the Creator. He also threw in that these people allegedly count for 1 in 5 Americans, which has yet to be proven. It's similar to those claims about the sodomite community that have been refuted.
(snip)
Each of the commissioners and the mayor was contacted by this writer and asked for comment, but as of the writing of this article, none have responded. Frankly, if any of them were Christians in the bunch, they should not have gotten up and walked out, but took the opportunity to refute Smith's ridiculous notions that he presented in his little fairy tale talk, which was neither logical nor reasoned nor scientific.
When a nation forgets God, God brings judgment upon that nation and we are seeing it before our eyes… blasphemers, idolaters, sodomites and other sins and crimes abound in our nation, and why? The Church has not been salt and light, but rather has pampered herself and whored herself out, despising the cross of Christ for the accolades of man. It's time the Church repented and stood against the gates of Hell and prevailed over them once again. Without such repentance, there is simply more judgment to look forward to.
Copyright Freedom Outpost 2014